Well….kind of. More like "home-like" for a rest. And I don't use the term "like" in the familiar teenage manner – you know: "like yesterday I like went to the like mall." I am using the term as an analogy…we didn't actually go home… but where we went was similar to home…except it was in Dubai.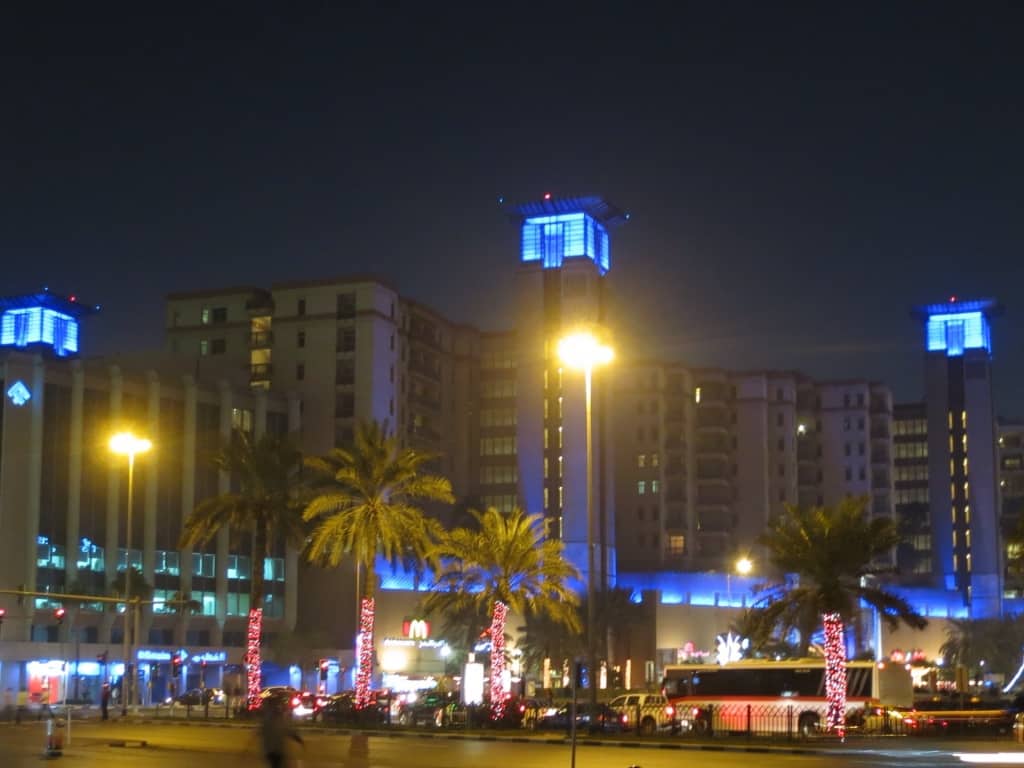 Our flight from Tanzania to Thailand was routed through Dubai. We had always planned this detour mostly because we wanted to strap some skis to our feet as we had missed the season this year. What we didn't realize is that we may have also needed a break from the unfamiliar and to enjoy something more home-like. Dubai certainly served this up in spades.
Unfortunately, our arrival in Dubai didn't start off on the right foot. We arrived at some ridiculous hour and spent 2-3 hours arranging for our transit visa. I had discovered that Canadians need a tourist visa to visit Dubai, unless you are in the city for less than 96 hours. Perfect – our flight left exactly 32 hours after our arrival. What I didn't know was that there was also a HUGE cost associated with this transit visa…. a $150 USD/pp cost! It would seem the little issue with Blackberry being unwilling to change some settings for the Arab world pissed a few people off, and so why not take it out on the people who have no control whatsoever on Canadian business policies – namely us!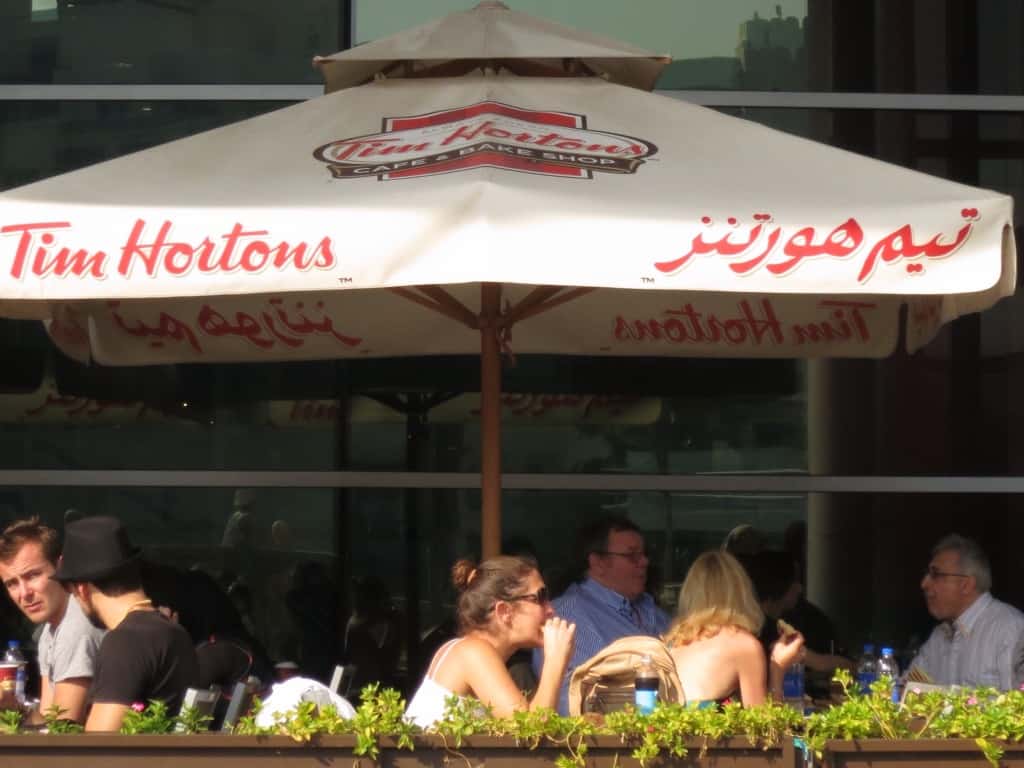 Dubai is an expensive place to be so I had arranged an air BnB stay just outside of the city proper. This proved to be a highlight of our time in Dubai mostly because Mannan our host was so incredibly delightful. Mannan picked us up from the airport, and deposited us at his spare apartment where we both crashed for a solid 3 hour nap. Mannan had everything set up for us including a card to use the metro, a spare cell phone and instructions on how to use the laundry machine! It was perfect!
Once we got out and about we quickly discovered that Dubai works. The signs say what they mean…so when the sign says the train comes in 5 minutes, it comes in 5 minutes. We spent the first few hours still suspicious of this "working" because we had been in Africa so long and weren't used to this.
The metro stop was right at the Mall of the Emirates where Ski Dubai is located. Yes, you read that correctly… the ski hill is in a mall – it is the desert after all. To get ready for our day on the slopes we headed to the food court for some lunch. Our options were pretty much all large multi-national chains! I enjoyed a fajita at Chili's while Matt devoured a salad the size of his head. This was quite the realization…the portions are HUGE. There is no possible way any human being needs to eat that much at any one sitting!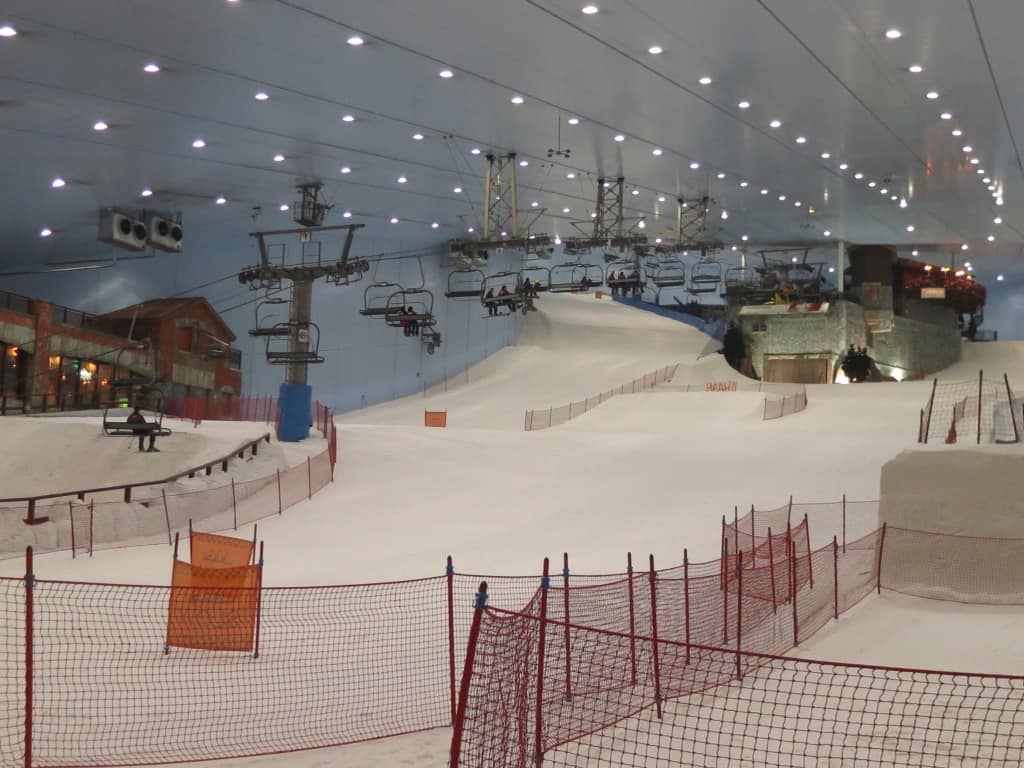 We rolled ourselves away from the meal and waddled into the Ski Dubai office. We purchased the 2 hour pass instead of the day pass, mostly because it was early afternoon at this point…and hey would could come back the next day if we wanted! Our lift ticket included our ski suit (gloves were not not included…so we are now the proud owners of 2 pairs of fleece gloves), and gear. As I was getting suited up I took a look around and noticed some of the women dressed in their Burka's with their long winter jacket and winter boots getting ready to head into the -5 celsius area. This is NOT something you would see at home.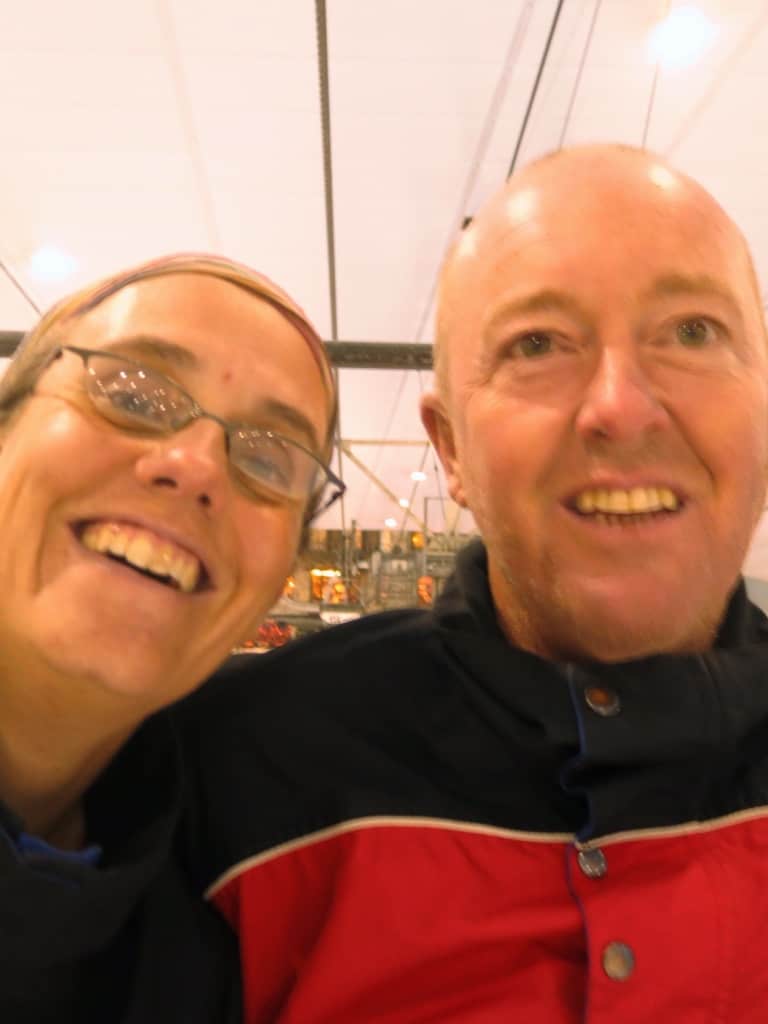 Matt and I snapped into our skis and made our way to the chair lift. We got off at the first stop…no need to start on the black diamond. As I made my 2 turns required to get to the bottom of the slope, I couldn't help but overhear from the chair lift above: "she knows how to ski!" Those of you who have skied with me know I can ski but I would never be accused of knowing "how to ski" in a manner that others would envy! I asked Matt if he had a similar experience, and he was beaming from ear to ear..yes indeed he had heard the same things about him! With our egos suitably pumped up we headed for the black diamond run. Well… I guess you can name a run anything you want when you are in Dubai.. so let's just go with black diamond.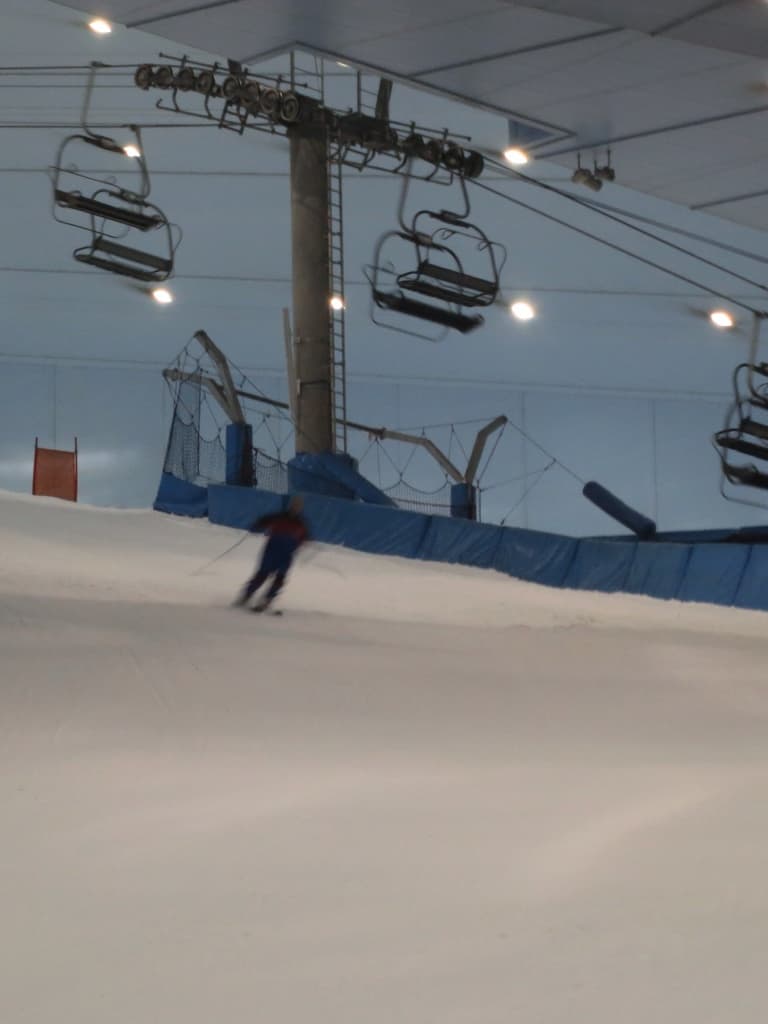 We spent the next 2 hours skiing this and one other run. It took longer to go up the chair lift than to ski down. My favourite was watching the burka clad ladies coming down the chair lift on the other side, squealing in delight swinging their feet back and forth. The chair lift also provided a great view of the kids playing in the snow…for what was obviously the first time. Growing up in Canada, I guess I just always assumed that everyone knows what snow is…it was a good reminder that the world is a diverse place.
At the end of 2 hours I was happy to take my ski boots off…mostly because my toes were cold. How is it possible in a full snow suit in the desert my toes could be cold? It's unclear…but I was happy to put my sandals back on so my toes could warm up.
The rest of our time in Dubai was spent shopping – we didn't t feel the need to ski again…after all we shredded every inch of the hill. Yes, you read that correctly. We shopped. We did this while following the strict dress and behaviour code of the 2 malls. No overt displays of affection for us! I think it is somewhat ironic we watched the movie Zero Dark Thirty in an Arab state. We enjoyed the aquarium in the mall and tried to order a beer with our dinner at the Cheesecake Cafe – no dice…but then any mall with a dress code probably doesn't sell beer!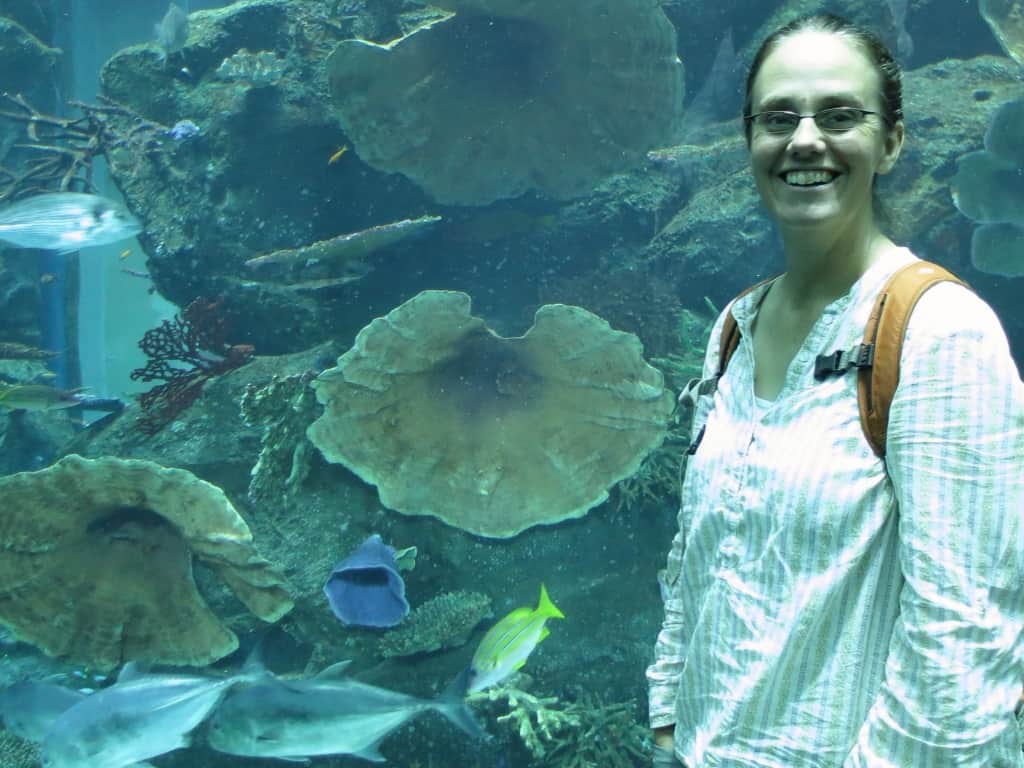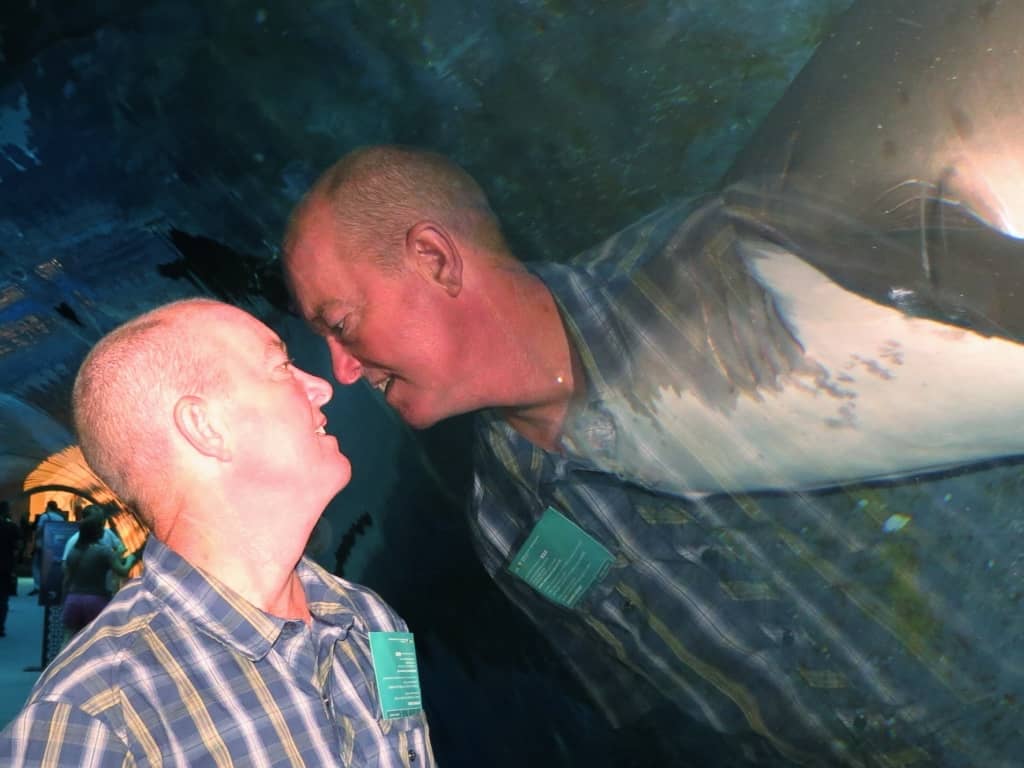 We both thoroughly enjoyed our time in this booming city, and we need to go back – this time with a reservation to go up the Burg Kalifa! It wasn't a cheap stop-over but it was worth every penny!